Visiting Fouke
Every year, hundreds of people travel to Fouke to see the home of the legendary Boggy Creek Monster. Here's some information to make your visit worthwhile.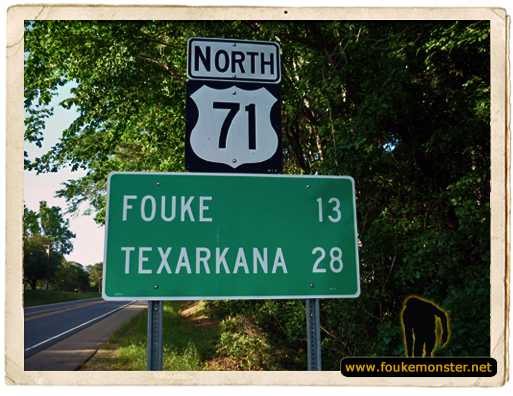 Local Establishments To Visit:
• Monster Mart - Start your journey here. Located at Highway 71 and Main in the center of Fouke, the Monster Mart has convenience store items, a souvenir shop, great pizza, and historical Fouke Monster items to see. There's excellent photo ops both inside and outside.
• Miller County Historical Museum - This is another great place to see Fouke Monster artifacts and learn about the history of the area. It's located on East Redcut Road just off Highway 71. You'll see the sign for it as you drive down the street. It's open from 10am - 2pm on Saturdays only.
• Boggy Creek Cafe - A great little cafe with homegrown favorites. (Located next to the Monster Mart.)
• Allen's Burger Center - Allen's has a full grill of American classics.

Historical Sites:
• Boggy Creek - Two miles south on Highway 71 from the Monster Mart, you'll cross Boggy Creek. Boggy Creek also crosses under County Road 9, near its origin. The best spot to stop and see Boggy Creek is where it crosses under County Road 7 (Burgess Road).
• Willie Smith's Bean Field - Willie's old bean field is now part of Boggy Springs Ranch and is not accessible to the public. However, you can essentially see the bean field area to the west where Boggy Creek crosses under County Road 9. Boggy Creek runs through the back of the old bean field as it makes it's way toward Highway 71. (Willie's land was located between County Road 9 and Highway 71.)
• Ford House - People often ask about the "Ford House." The house was located on the west side of Highway 71 just north of Fouke, but has long since been torn down.
• Sulphur River - The Sulphur River public boat ramp is a convenient and easy way to view the river. It's located 9 miles south of Fouke on Highway 71. Just watch for the sign as you approach the bridge while travelling south. The Fouke Monster has been spotted along the Sulphur River over the years, with a few sightings occurring quite close to the location of the public boat ramp.

Accommodations:
There are no hotels or motels in Fouke. If you would like to stay in the area, you will need to book a hotel in nearby Texarkana, camp out, or rent a room at Holly's Cottage which is an Air BnB location. (If you opt for Holly's Cottage, mention you saw the link on foukemonster.net and you'll receive a 10% discount.)

Campsites:
Private Camping: A great way to experience the remote woods of Fouke is to camp at the privately owned Cypress Creek campground located on the Sulphur River. The camp is set in the heart of Fouke Monster country, in the area known as "Jonesville." Jonesville is where many sightings of the creature have been reported over the years. Cypress Creek is currently under development with several primitive campsites available now and a cabin in the works. River boat tours and expeditions are also available. Email Spencer Jones for more information about pricing and availability:
Public Camping: Alex Smith Park offers free public camping. It's located northwest of Fouke on Highway 247 (Blackmon Ferry Rd) near the intersection of 247 and County Road 151. There's a good place to access the rivers/bayous at 151. You'll see the signs. Lots of historical and recent sightings in that area too. Location map: http://goo.gl/maps/zOQZN
Note that there are no public restrooms at this park, it's primitive camping only. A gun firing range is also located near the camp.